Nuenen Alta Gracia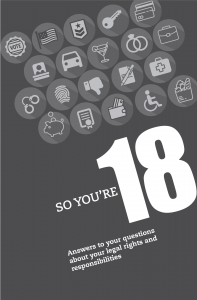 "Age of Majority: This is the age when a person is no longer a legal minor and now has full legal responsibility. In Virginia, 18 is the age of majority.
But what does that even mean? Turning 18 does not come with a set of instructions. That is why the Virginia State Bar and the Conference of Local and Specialty Bar Associations created this website to help you understand some of your rights and obligations as an adult and to help you avoid some of the pitfalls facing young adults as you take on legal responsibilities.
So You're 18 is intended to be an initial resource of information regarding basic law-related references and a good summary of the various legal issues you may encounter. However, if you have more detailed questions about a particular subject or if you need legal advice about a specific case, you should contact an attorney to discuss your specific issues.
So You're 18 is updated regularly and the print version is re-released yearly. You can watch the So You're 18 video, download a copy of the booklet, and order printed booklets at the Virginia State Bar's website. You can also suggest additional topics and questions you want answered here. — from the website below.
Download your free copy at:  https://www.vsb.org/site/publications/sy18.  Also, check out the amazing website at: https://soyoure18.com/.