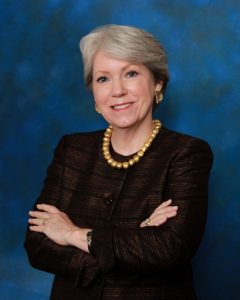 Barbara S. Anderson, Esq. is the founding principal of LEPLC. She focuses on the areas of estate and trust planning, probate and trust administration, incapacity and disability planning, and crisis management.  She also serves as a fiduciary for several local senior citizens.
Barbara is a past chair of the Virginia State Bar's (VSB) Conference of Local Bar Associations and was re-elected to the Bar Council of the VSB in 2018. She currently serves on the Board of Governors of the Senior Lawyers Conference of the VSB.  In that capacity she edited the 2020 edition of the Senior Virginians Handbook, published by the VSB, which is distributed for free to seniors in the community. In 2017 Mrs. Anderson was inducted as a Fellow of the Virginia Law Foundation. Other professional memberships include the Alexandria Bar Association, National Academy of Elder Law Attorneys, Virginia Academy of Elder Law Attorneys, Virginia Bar Association and the American Bar Association.
Barbara and her husband raised two sons in Alexandria, and she actively participates in numerous education, civic and community organizations. A past president of the Alexandria Bar Association, she also served as Board president of Senior Services of Alexandria (SSA), an organization whose mission is:  "To foster independence and self-sufficiency, enabling seniors within the City of Alexandria to age with dignity."   Mrs. Anderson continues to work with SSA to form partnerships within the City to provide resources and services and organized the first Senior Law Day presentations for residents of the City.
Barbara was named an "Influential Woman of Law" in 2020, and an "Influential Woman of Virginia" in 2011, by Virginia Lawyers Media.
Bar Admissions:
United States Tax Court, 1983
Supreme Court of Virginia, 1984
Education:
Washington College of Law, Washington, D.C. J.D., 1982
George Washington University, Washington, D.C., B.A., 1973
Publications:
Senior Virginians Handbook, 2020 Edition, Editor, Virginia State Bar.
The Counselor and the Law (Fourth Edition) 1996, Alexandria, VA: American Counseling Association.   (Second Edition, 1985, Third Edition, 1990, co-author)
ADA Compliance Guide, contributing editor, 1990-98. Washington, D.C.:  Thompson Publishing Group.
Section 504 Compliance Guide, formerly the Handicapped Requirements Handbook, contributing editor, 1980-98. Washington, D.C.:  Thompson Publishing Group.