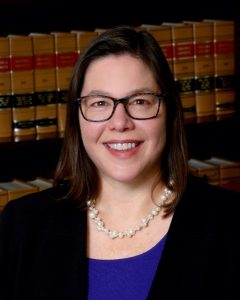 Natalie T. Page, Esq. is a principal attorney at LEPLC. Â She focuses on estate planning and probate, trust planning and administration, and incapacity planning, including guardianships, conservatorships, and the issues surrounding Medicaid.
Natalie is a member of District IV, Section II of the Virginia State Bar Disciplinary Committee.   She serves on the Pro Bono Committee of the Alexandria Bar Association and is a member of the planning committee for Senior Law Day.
Natalie has practiced in various areas of the law since her graduation from the University of Virginia Law School in 1993. She began practice as a Deputy Prosecuting Attorney in Washington State and, upon moving with her husband to Australia in 1996, became licensed to practice in the Australian state of Queensland.  Natalie's Australian practice included the representation of both insurers and plaintiffs in personal injury litigation.  She also practiced family law.  Natalie returned to the United States with her family in 2004 and was admitted to practice in Virginia in 2005. Professional memberships include the National Academy of Elder Law Attorneys, Virginia Academy of Elder Law Attorneys and the Alexandria Bar Association.
Natalie grew up in Northern Virginia and has lived in Alexandria with her husband and daughter since their return from Australia in 2004.
https://livingriver.eu/wp-login.php Bar Admissions:
Supreme Court of Washington, 1993
Queensland Law Society, 1999
Supreme Court of Virginia, 2005
Lučenec Education:
University of Virginia, Charlottesville, Virginia, J.D., 1993
University of Washington, Seattle, Washington, B.A. 1989