where can i order cytotec online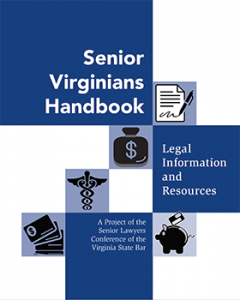 The Senior Lawyers Conference of the Virginia State Bar (VSB), an agency of the Supreme Court of Virginia, has published a guide for senior citizens for many years. This Handbook, renamed the Senior Virginians' Handbook in 2020, provides summaries and references to various laws and programs affecting Virginia's older residents, as well as practical guidance to address those concerns. The Handbook also is a guide for identifying and locating public and private organizations that provide services to older Virginians.
Râs el Aïoun Barbara S. Anderson served as Editor of the 2020 edition of the book.  Julia Crisfield and attorneys from around Virginia contributed to the articles and resources.
You can download a personal copy of the Handbook by clicking on the image to the left, or through the Virginia State Bar's website at:  https://www.vsb.org/site/publications/senior-virginians-handbook. In addition, printed copies are available through the VSB at the same website, or by attending a Senior Law Day presentation.
We hope you find it helpful and welcome your comments and thoughts about the content.  Please contact the VSB at (804) 775-0500 and ask for the SLC's staff liaison, or email: vsbnews@vsb.org with your suggestions or comments.